Young Botanical Artist Competition winners celebrated at Kew Gardens this autumn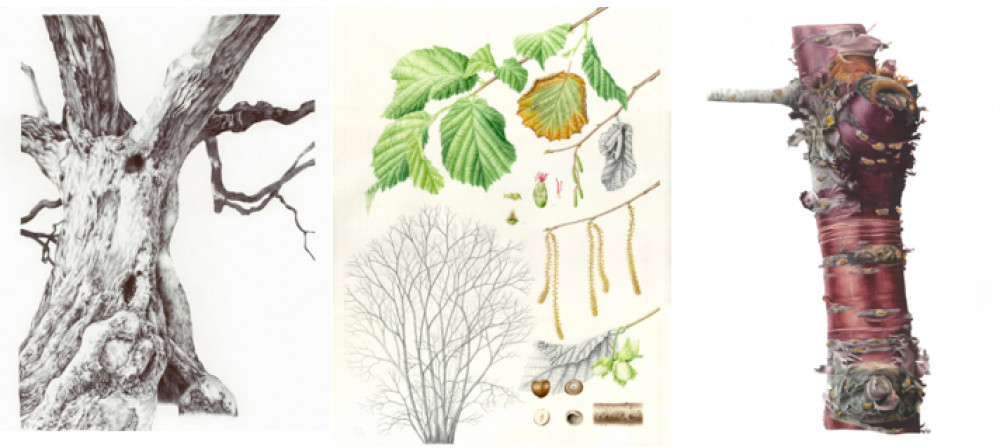 Death of an Olive tree due to Xylella by Valeria Brambilla, Hazel by Zoe Dobson, Prunus serrula by Marianna Zych. (Photo Credit: Kew Gardens).
Winners of the inaugural Young Botanical Artist Competition are to be celebrated in a new exhibition at Kew Gardens this autumn.
The competition was held by The Shirley Sherwood Collection in collaboration with Royal Botanic Gardens, Kew, and features works by artists aged 16-25.
From October, Gallery 6 of Kew Gardens' Shirley Sherwood Gallery of Botanical Art will showcase 50 shortlisted artworks from the competition.
The overall winner of the 16-18 age group award is 17-year old Marianna Zych from Poland.
Her watercolour painting Prunus serrula was created as her first-ever botanical artwork following just one month of painting classes.
The overall winner of the 19 – 25 category is Khanh Ly Nguyen from Vietnam, whose watercolour Bauhinia variegata leaf showcases the intricate detail of this stunning tree.
The competition proved enormously popular around the world, with over 1,000 entries from 77 countries.
The final selection of 50 artworks were submitted by artists from 17 countries, including Brazil, India, Japan, Uzbekistan, and Indonesia.
Visitors to the exhibition will be able to vote for their favourite artwork and a People's Choice award will be announced in April.
The selection of shortlisted artworks was made by a panel of esteemed judges, including contemporary botanical artists from around the world and curators from Kew's galleries, with the panel searching for botanical artworks that represented their subjects creatively, but with scientific accuracy.
Botanical paintings and drawings have long been used to further our understanding of plants and fungi, particularly given that it is an art form capable of recording minute details which are often more accurate than a photographic record.
As we work to better understand and preserve our planet's biodiversity, botanical art continues to play a vital role in helping to record and observe countless species the world over.
Dr Shirley Sherwood OBE says: "I couldn't be more thrilled with the standard of the entries we received for our inaugural Young Botanical Artist competition and I'm grateful to my daughter-in-law Rachel Sherwood for bringing the initiative to life. It's been fascinating to see such a broad range of responses to the competition and to have received so many entries from across the world.
"To see first-hand the next generation of talented botanical artists coming to the fore is enormously inspiring."
Maria Devaney, Galleries and Exhibition Leader at RBG Kew adds: "Although often thought of as very traditional in style, at its heart botanical art is all about innovation, discovery and nurturing the innate curiosity about the world we share."
"It's been wonderful to see such an enthusiastic response to the competition as a whole, and it's fantastic to be able to celebrate the achievements of the shortlisted entrants with this special exhibition."
The Royal Botanic Gardens, Kew, is dedicated to harnessing the power of plants and fungi to end the extinction crisis and secure a future for all life on Earth.
With Kew's world-leading research, global partnerships and beloved gardens – home to the world's most diverse collections of plants and fungi – Kew is using its trusted voice to shape policy and practice worldwide.
As a charity Kew relies on the critical support of its visitors, not only to sustain the gardens, but to protect global plant and fungal biodiversity for the benefit of our planet and humanity.
New richmond Jobs Section Launched!!
Vacancies updated hourly!!
Click here: richmond jobs