Local campaign group to hold neighbourhood march against Thames Water today
Campaign leader Ian McNuff making a speech during August's protest. (Photo: Emily Dalton)
Local campaign group, Save Ham Lands and River, is set to undertake a public 'demonstration-march' today (20 November) against Thames Water's Teddington Direct River Abstraction (TDRA) scheme.
The march is part of the group's ongoing opposition to TDRA, following its protest in August which saw around 400 people demonstrate in Ham along the river.
The proposal would see water extracted from Teddington Weir and transported through an existing underground tunnel to the Lee Valley. The water would then be replaced by treated effluent from Mogden Sewage Treatment works.
The group's main points of grievance are:
The environment and ecological impact on the River Thames by pumping treated sewage into it is unknown.
TDRA will cause destruction to the natural land in Moormead Park, Ham and Kingston which are enjoyed by the community and visitors
The construction impact from 4.5km worth of tunnel on neighbourhoods and buildings
Save Ham Lands and River expect hundreds of people to attend the march.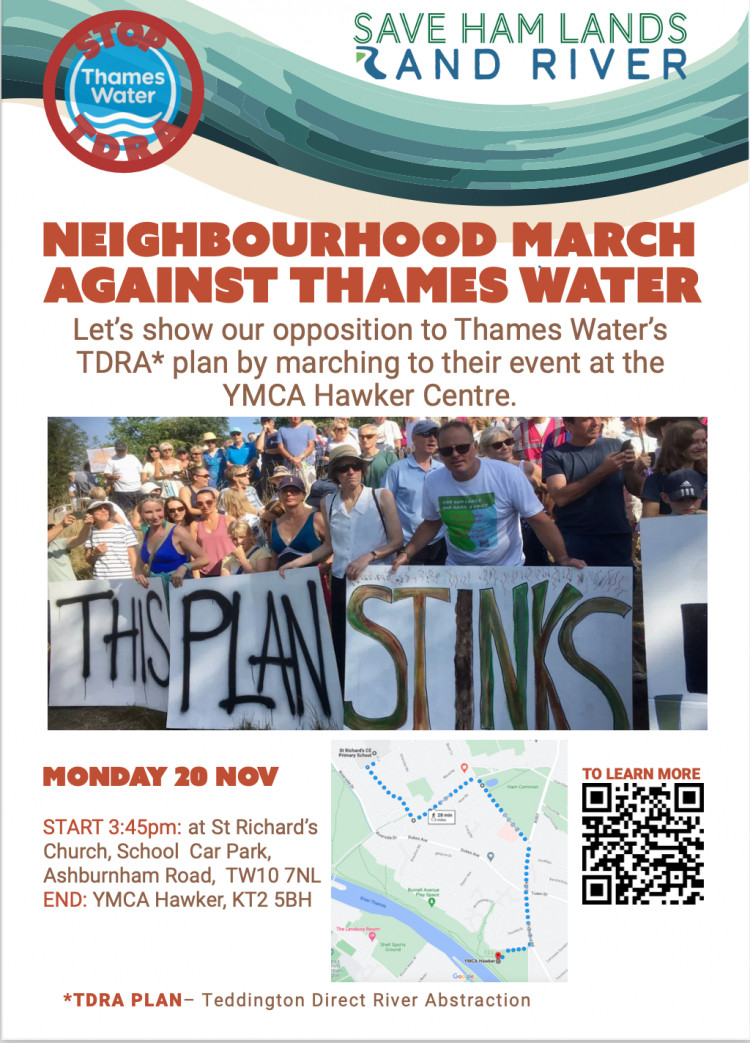 Save Ham Lands and River poster. (Photo: Supplied)
Campaigners will convene at St Richards Church/St Richards Primary School, departing at 3:45pm for the YMCA Hawker Centre, where Thames Water is hosting a community information event.
The march will take less than one hour with campaigners arriving outside the YMCA building for a rally.
New richmond Jobs Section Launched!!
Vacancies updated hourly!!
Click here: richmond jobs