Cherry on the cake – Petersham Café and Nurseries named 'Best' as businesses across the area pick up awards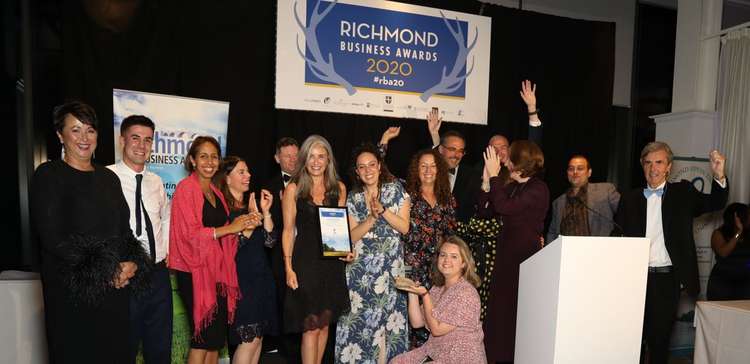 Petersham Café and Nurseries, a magnet for locals who can sit alongside the rich and famous, has been named 'Best Business' at the Richmond Business Awards.
The event, which is organised by the Richmond Chamber of Commerce, celebrates the contribution of businesses across the borough in terms of economic success, employment and culture.
The winners were announced recently at a black tie Richmond Summer Ball event held at Twickenham stadium, which was presented by TV journalist and local, John Stapleton.
Petersham Café and Nurseries has developed an international reputation for its beautiful setting, including fabulous plants and flowers, as well as its food.
As a result, it was chosen as the venue for the first meeting between Sir David Attenborough and Greta Thunberg, while filming her three-part BBC documentary to discuss climate change.
More recently, it hosted the 70th birthday of the Live Aid and Boomtown Rats frontman, Bob Geldof, where guests included the former Rolling Stones bassist Bill Wyman.
Earlier this year the restaurant, café and tea room won a 'gold star' for sustainable gastronomy in a new category announced by the Michelin Guide. This recognised its consciously sourced produce and environmental ethos.
Petersham Nurseries employs 170 staff, with 80per cent of them living within a five-mile radius.
Keeping its doors open throughout the year, it did its utmost to support its suppliers, neighbourhood, and chosen charity - The Vineyard Community Centre.
Remaining open as a Garden Centre Petersham Nurseries became a much needed amenity for visitors during lockdown.
During lockdown, the team demonstrated their resilience by transforming the restaurant into a grocery store offering collection for the local community and deliveries for those further afield.
The grocery store provided fresh and store cupboard ingredients from long-standing suppliers and the family farm, helping customers to stock up on essentials at a time when produce was extremely limited.
The team took advantage of its nationwide reputation and the trend for restaurant food finished off at home by launching a meal kit service, delivered to doorsteps across the country.
The founders, Gael and Francesco Boglione, were thrilled to collect the coveted award.
Gael said: "It has been a challenging year for everyone in Richmond, so we're especially proud and humbled to have won this award in 2021. For us, the real success of the last year has been being able to keep our doors open and to retain our staff through the pandemic."
Francesco added: "For 20 years our business has been rooted in Richmond - we have always responsibly served our community, hired locally and re-invested in the neighbourhood. It's an honour to see our work in such a difficult year commended by the Richmond Chamber of Commerce Business Awards and Richmond Council."
Morrisons Solicitors, which is a sponsor of Teddington Nub News, won for 'Best Achievement in Corporate Social Responsibility' in a category sponsored by Be Richmond.
The long-established firm, which works hard to build community links, offers a full range of legal services from corporate law, to family law, wills and businesses to business transactions.
The Richmond based tech company, Minesoft, picked up two awards for 'Best Digital Marketing' and 'Best Customer Service'. The company, which has offices around the world, allows big businesses and entrepreneurs to research and develop product patents.
The award for 'Best Female Entrepreneur' went to Ciara Mullins, who is the director of CuraCare, an award-winning independent home care business providing live-in and support services to the elderly. The firm has offices in Twickenham and East Sheen who help clients across the Richmond borough.
The 'Best High Street' prize went to Sporting Feet, which is a new sports footwear shop with branches in King Street, Richmond, and another in Putney.
The awards are supported by a series of sponsors including London Square, Richmond Council, The Lensbury, Be Richmond and Twickenham Film Studios.
Other awards went to Richmond College, based in Twickenham, for its training and development; City Lofts - Architecture 100; Burbeck Interiors, the Rugby Fooball Union; BathroomsByDesign; Stirling Shaw, the commercial property agency; Richmond and Hillcroft Adult Community College; and Studio K, the fitness and dance studio.
Winners can be found here.
The awards, which were attended by MPs Munira Wilson and Sarah Olney, were hosted by Anne Newton, the Deputy Chair of London
Chambers and Chief Executive of Richmond Chamber of Commerce. She congratulated all the winners and the many other businesses which won commendations for the important role they play in the area's economy. The organisation is now accepting nominations for its 2021 awards which can be made
here.