UP CLOSE WITH: Wayne Barnes, international rugby referee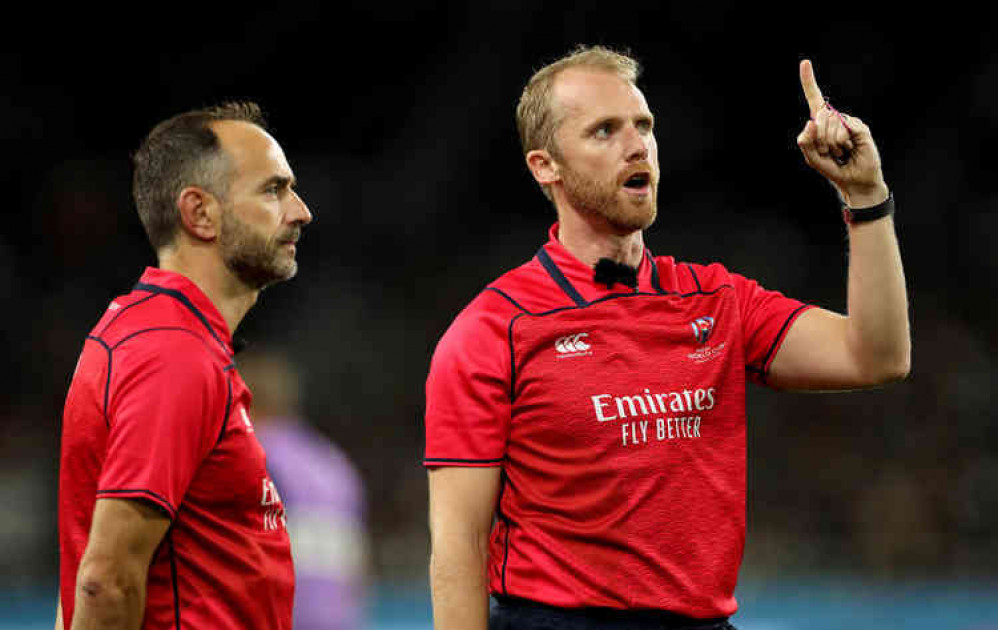 Wayne Barnes, pictured right
Wayne Barnes is widely respected as one of the world's best rugby referees.
He has been in charge for more than 90 Test matches and refereed at four Rugby World Cups including three-quarter finals, a semi-final and a two bronze finals.
In the club game Wayne has refereed two European Champions Cup finals and nine Premiership finals.
The Twickenham resident was the first Englishman to referee the British and Irish Lions and in 2018 officiated the historic match between Ireland and New Zealand in Dublin.
He made his international debut in 2006 and last year was named the World Rugby Referee of the Year.
Wayne took part in a Q&A with our sister site Teddington Nub News and here are his candid answers.
If you could be one of the players you have refereed who would it be and why?
People think referees are there just to spoil their Saturday afternoon, they sometimes forget that we are huge fans of rugby too. I always admired Martin Johnson, and if I'm honest, I was slightly petrified of him. To the extent that the first time I referred him at Welford Road, I had to sin bin him. "I'm sorry Sir" was my scolding to him as I produced the yellow card.
Have you ever feigned deafness while refereeing and if so per chance was it when Ritchie McCaw was trying to attract your attention?
I've been on the field with some of the great captains, John Smit, Sam Warburton and Richie McCaw. Richie had the knack of asking the right question at the right time. Contrary to popular belief, he didn't talk a lot on the field. He knew the law book inside out and so when he asked a question, he often had a point.
Any ideas how to speed up the time spent around scrums?
Recently, World Rugby set up a working group to help improve the safety and understanding of the breakdown. That group was led by top class coaches but also included international players and referees; which I was one of. The suggestions that the group came up with have been widely praised and now being adopted across the globe. What that exercise has shown, is that if you want to change an aspect of the game, it's important to get all stakeholders involved.
Who has been the most difficult player to control during a game?
I always enjoyed refereeing players who make me smile and Andy Goode always made me smile as he made me look athletic when we were on the same pitch. The humorous players always keep you on your toes and if they get opportunity to pick you up on a slight faux pas, they will.
I once mentioned to Andy Goode that him and his team mates were all appealing for far too many decisions and told him that it sounded like there were 15 referees on the pitch. "And you're not even in the top 10" was his reply.
Should we bring relegation into the Six Nations?
My first refereeing appointment in the 6 Nations was back in 2007; Italy v France and since then, I've refereed at every stadium across the competition at least twice. What makes the 6 Nations so special is the travelling fans, the full stadiums and the fantastic cities which you get to visit. Before any changes are made, we want to ensure that what is special about the best annual rugby tournament in the world, is not lost.
Will Eddie Jones stick around for the next World Cup in 2023?
I hope so. The way that we performed in the semi-final against New Zealand in Yokohama Stadium in Japan back in October, showed what England can achieve. I'm hoping that come Paris 2023, he can take the team one step further.
Which are your three favourite grounds in the world?
Cardiff – with the roof closed, there is no better atmosphere
Brisbane's Suncorp Stadium – A stadium which is built up so it feels as if the spectators are on top of the pitch, I've refereed two cracking Bledisloe Cup matches there too
Twcikenham – a short stroll from home. In the 2015 RWC semi-final, I walked to the stadium from my house with the other match officials. As I crossed the 316 bridge from the Stoop with my bag over my shoulder, I looked across to the West Car Park and thought this is pretty special.
What would be your advice to any young, aspiring referees out there?
Referee as many games as you can. We all learn from our mistakes and it's a lot better to make your mistakes in an under 15s match, then it is in front of millions when you are refereeing your first 6 Nations match.
What is the one rule change – if any – you would introduce to improve the game in your opinion?
I am a big advocate of using technology in sport. Think of the excitement that Hawkeye has brought to tennis and cricket. Also in rugby, the added drama as you are sitting in the stand wondering if the winger got the ball down before the defender bundled him into touch.
Of course, we shouldn't over rely upon it and we need to get the decision as quickly as possible, but anything we can do to add to the spectators experience and to ensure the right decisions are given, must be good for the game.
What will the main effect of the coronavirus on the game at the various levels it is played at?
It was great to see rugby back on our screens last week when Quins played Sale, but it is strange not having the fans there. I'm currently in isolation after the rules were changed while I was on holiday with my family over in Mallorca, so it will be interesting to see and hear what it's like not having fans there.
What is also important, is to get our junior clubs up and running as soon as we, so these fantastic clubs can continue doing the great work they do in supporting the community and growing the next lot Red Roses and England Internationals.
What has been your funniest interaction with a player on the pitch?
The biggest cheer I've ever had as a referee was when I was refereeing over in Munster. The Munster fly half got his trajectory of a kick a bit wrong (well that's what he told me) and the ball spiralled straight into my face. It hurt! IF you google "Wayne Barnes smashed in the face" you can enjoy it too!
Players on the fringes of ruck are always being taken out. Isn't this illegal? Should it be outlawed as dangerous play?
One of the main reasons the working group was put together to change the way in which the breakdown is coached, played and refereed (see above) was to ensure it became safer. Taking out players illegal was one of the areas that we covered and players and coaches all agree that making sure you drive a player backwards rather than diving on top of him/her or shoulder charging them instead of grasping them is not acceptable.
Would you share with us three England players who you think are certain to play in the next World Cup?
One of my roles as a professional referee is to referee the England training sessions down at Pennyhill Park (definitely worth a visit if you haven't been down to the Bagshot Hotel). Being involved means I get to see some of the young English talent coming through and we are currently seeing a top class crop of players. Tom Curry, Sam Underhill were both standout, young performers in Japan. People also forget that George Ford and Owen Farrell are 27 and 28 respectively. They've still got a lot of rugby to play too.
Who would be your stand-out players for the home nations over the years?
With the Lions trip to South Africa less than a year away, it will be great to see which Home Nations' players put their hand up for selection. Wales performed heroically to reach the RWC semi final and the likesof Josh Adams and Aaron Wainwright will be looking for their first tour. James Ryan will also be looking to add a Lion's cap to his Irish caps that he already as. Scotland's Stuart Hogg will be a sure bet for his second test, but how many Scots join him is always an interesting discussion.
I've always enjoyed refereeing Wales v Ireland, I refereed it 6 times, as the passion and pride of both sides is always evident. TO see the likes of O'Connell and Wyn Jones and Sexton and Biggar going up against each other, always made for a great game.
Find us on social media
Or send us a tweet
and tell us your view.