Richmond Road's Co-op celebrates local causes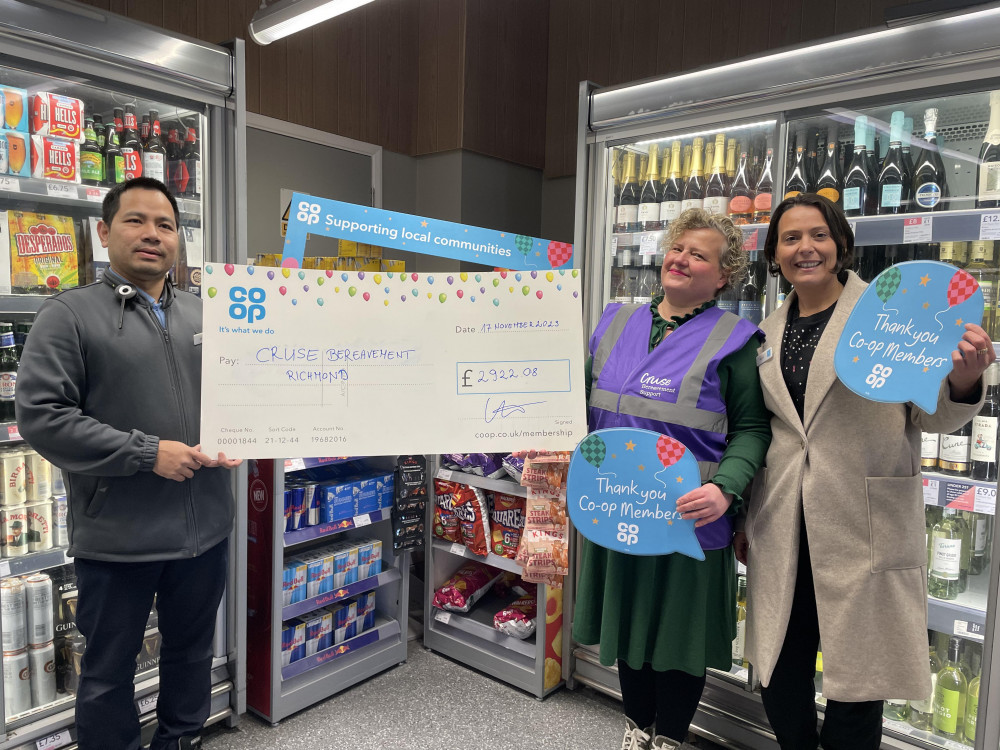 The team at Richmond Road Co-op came together with recipients of the retailer's Local Community Fund last Friday (17 November) for a morning of celebration for this year's recipients.
Every year Co-op stores select charities that customers can choose to help through the Co-op Local Community Fund.
The retailer's Local Community Fund (LCF) is awarded annually to organisations who are deemed to serve one or more of the Co-op's pillars; providing access to food, access to well-being and providing opportunities for the young.
This year, they supported Cruse Bereavement Support, The Purple Elephant Project and Briar Road Allotments.
Briar Road Allotments:
£2,878.29 was raised for Briar Road Allotments, a scheme which has been creating accessible allotment plots.
They've done this by creating raised beds and installing wooden flooring so that people can get around the allotment more easily.
One member of the allotment team who was present at the event told Nub News that the money from the Co-op will help buy much needed equipment.
Dennis said: "All the equipment needs to be funded, such as hoses and things, and we'll be able to finish off the final bits. The beds are there, the soil is in, the shed has been erected but it's the things you need, even just things like table and chairs to sit out and have a rest, that this money will go towards."
He added: "Our work has inspired other allotments in the borough so once it takes root it could spread"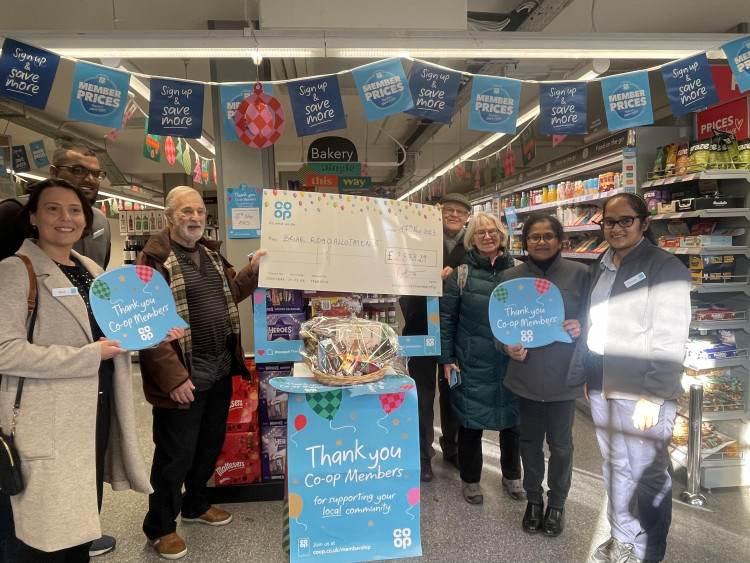 £2,878.29 was raised for Briar Road Allotments. (Photo Credit: Heather Nicholls).
Cruse Bereavement Support:
£2,922.08 has been raised for Richmond Cruse Bereavement Support, a charity which offers one to one bereavement support to everyone who has lost somebody that they love.
A representative from the charity said: "This money will help tremendously, it's been great to know there is a corporation out there and everyone is willing to give support to local charities and for us to be able to be a part of that"
"Some of the money will be spent on supervision because our volunteers get regular supervision for work they do with clients and some will go on training so we have continued professional development and they have to do 16 hours of that every year"
She added that as a part of Co-op's LCF they've been able to hold more events, which has helped them to engage with the community and gain some more volunteers.
The Purple Elephant Project
£3,204.48 was raised for The Purple Elephant Project, a mental health charity which supports local children from the Richmond and Hounslow Boroughs.
They provide Play Therapy and Art Therapy, working with around 150 children every week.
Katie Lyall, head of fundraising at the charity said: "Demand for children's mental health services is at an all-time high.
"The partnership with the Co-op Local Community Fund has given us a fantastic opportunity to raise awareness of our work amongst local shoppers, and the amount of money raised is phenomenal.
"To a small, local charity, £3,200 is a huge sum of money and it will really help us to continue to support local children with the help that they need."
When Co-op members buy selected Co-op products and services, 2p for every £1 spent goes into their Co-op Membership account from which they nominate one of the chosen charities.
The Co-op will also give the same amount to support community organisations and local causes.
Co-op Membership helps support Co-op's national charity partners and Local Community Fund causes. See www.coop.co.uk/membership.
New richmond Jobs Section Launched!!
Vacancies updated hourly!!
Click here: richmond jobs